The 360º Scanner - a dermatological full-body scanner for the early detection of skin tumours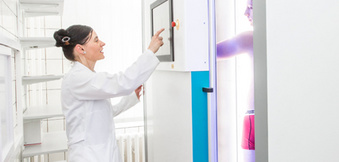 Black skin cancer is aggressive and life-threatening. Health insurance companies therefore urge their patients to undergo skin cancer screening. Dermatologists usually inspect atypical liver spots with a dermatoscope and observe whether they change over time. The difficult part is to keep track of changes such as the growth of individual moles in view of the large number of liver spots a person has. These examinations are very time-, personnel- and cost-intensive.
Together with a team of researchers, doctors, technicians and engineers, we have developed a dermatological full body scanner (Dermascan Plus). The Dermascan Plus enables improved documentation of the progress of each individual mole.
How the 360º scanner works
The patient is currently positioned in a cabin on a rotating plate. The patient's skin surface is recorded from various positions using high-resolution camera and scanning technology and divided into individual images. The fusion of the individual images creates 3D measurement data, which is used to assign a scale to each individual pixel in the image. By the calibration of the sensors and cameras the spatial position of the times is determined exactly, so that changes can be determined clearly also with photographs from different distances and positioning were taken. Measurement data and image recordings are then imported into analysis software, where they are evaluated and automatically classified. The software compares the course images of an earlier point in time with the current images. With this technology a growth from half a millimeter can be determined.
The "Dermascan Plus" project wins the Hugo Junkers Prize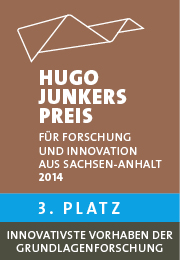 For our several years of research work in the project "Dermascan Plus", which has now been completed, we were rewarded with an award from the Ministry of Science and Economy. The project team won third prize in the basic research category of the Hugo-Junkers Prize 2014 for research and innovation from Saxony-Anhalt.
Project partners and research funding
The "Dermascan Plus" project was supported by "Investitionsbank Sachsen Anhalt".
Our project partners include:



university dermatology clinic Magdeburg,


Fraunhofer Institute for Factory Operation and Automation IFF


Hasomed GmbH.